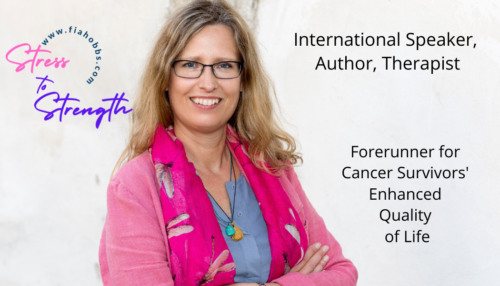 Internationally Acclaimed Speaker, Author, Therapist and Forerunner for Cancer Survivors' Enhanced Quality of Life
With 30 years in the field of stress management I help people with all kinds of stress and challenges, especially when it comes to cancer in particular, where I work with cancer survivors and caregivers.
I'm the CEO at Arcadia FriskVård AB and founder of two Swedish non-profit organizations for a better Cancer Rehabilitation and for Cancer Wellness.
After 10 years of living abroad in different countries in Southern Europe, London and New York, I moved back to my native Sweden with my family. I work as a speaker, a counseling therapist, a qigong teacher and I love doing workshops on all my favorite topics which all have to do with mindset one way or another.
My Stress to Strength Program is the result of my work in Eastern and Western medicine as well as Neuro Linguistic Programming, Cognitive Behaviour Therapy, Motivational Interviewing, and Mindfulness.
In 2002 I received my Master Exam in Medical Qigong and did clinic work in hospital in China and in a clinic in Tokyo. I am trained by Dr Carl Simonton at the Simonton Cancer Center in California in counseling.
When it comes to Mindfulness I use both MBSR, Mindfulness Based Stress Reduction, and for cancer patients Mindfulness Based Cancer Recovery Program.
I have a lot of personal experience with cancer all around me having lost dear friends, colleagues and family members. My husband died of cancer in 2018 and together we wrote the book Reflections, A Story of Hope, Healing, Facing Fears, and Finding Purpose.
Reflections got a Book Excellence Award as a Finalist 2021 and is a co-write with my husband. My first book came out 2010 and is about mental training viewed from an Eastern and Western point of view. It will be translated into English during 2022.