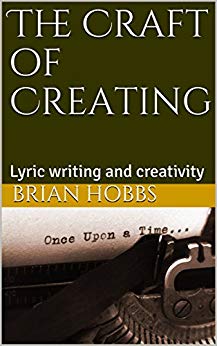 The Craft of Creating
by Brian Hobbs
This book is about the creative work behind songwriting and writing lyrics. It gives you guidance with exercises, as well as a kick in the but to just do it. Written by Brian Hobbs, songwriter, composer, and you find his biography below.
Biography Brian Hobbs 
Brian Hobbs, originally from North Carolina, relocated to Sweden in 1992. He attended the Berklee College of Music in Boston, Massachusetts and lived and worked in New York from 1979-1992 where he was involved in writing for the theater and composing songs for cabaret and musical theater artists.
His show, "Poe," a musical based on the life of poet, Edgar Allan Poe, was given a staged reading at the Soho Repertory Theater in NYC. He was selected to be a member of the ASCAP Musical Theater Workshop in 1981 and was a member of the BMI Lehman Engel Musical Theater Workshop in 1985 and 1986. While in New York, Brian studied with acclaimed jazz pianist, Bill O' Connell.
Brian was also involved in other areas of popular music and participated in the ASCAP Pop Music Workshop in 1989 and the ASCAP R&B Music Workshop in 1990 and 1991.
Once in Sweden, he was signed to MCA Music Publishing (now Universal) and was also a staff writer for Multiplay Music Ltd. based in London.
He has had songs recorded by: Björn Skifs, Viktoria Tolstoy, Nils Landgren, Peter Getz, O. C. Smith, Jill Johnson, Anders Johansson, Andreas Aleman, Mia Löfgren, Stefan Gunnarsson, Johan Becker, Magnus Bäcklund, Monica Silverstrand, Charlotte Perelli, Lena Philipsson, Janne Schaffer, Joseph Williams, Michael McDonald, Lutricia McNeal and others, as well as artists in Japan, China, Spain, Belgium, the UK, Norway, Denmark, Germany, etc.
He has independently released albums by artists such as Andreas Aleman (This is Life- 2009, It's the Journey-2012, Home for Christmas-2014) and Monica Silverstrand (Been there, done that- 2005). Brian has also released 7 albums under his own name; Music for Balancing Body & Mind (2001), Impressions of the Outer Banks (2003), Candle in the Window (2006), Second Glances (2010), Genesis of who I am (2017), Reflections (2017), the score to his musical, The Independent Man (2017) and Love Remembered (2012) with the Albert-Hobbs Big Band.
Brian Hobbs passed away 2018